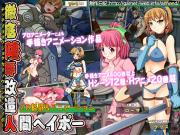 Become a brutal man who lacks human compassion,
and do battle in the arena with 2 captive heroines.
* Animations created from over 400 hand-drawn frames
* 12 varieties of H scenes!
* Over 20 varieties of H anime!
* 30+ total varieties of erotic scenes!
Featuring armor breaks, telekinetic masturbation, pissing, capture and more,
plus post-capture r*pe and violence and torture animations.
* Heroines
Kurisu the Defender of the Princess, supremely confident and righteous.
When an evil organization hostages Rosa, she wages war on Heipo.
Rosa the Princess of the Rune Kingdom, stronger than she lets on.
Knowledgable in warfare, she is regrettably inexperienced.
The evil organization takes her hostage, offering her a glimpse of freedom
if she can defeat the brutal opponent in battle...